We'd like to offer a huge congratulations to photography student Zoe who recently won Silver in Analog Sparks Photobook awards! Zoe's photobook ONISM was the silver winner in Zines and Photo Book/Street. ONISM explores complex themes, with Analog Sparks stating that the photobook "explores the ideas of disassociation and the realisation that we will only experience a small portion of the world".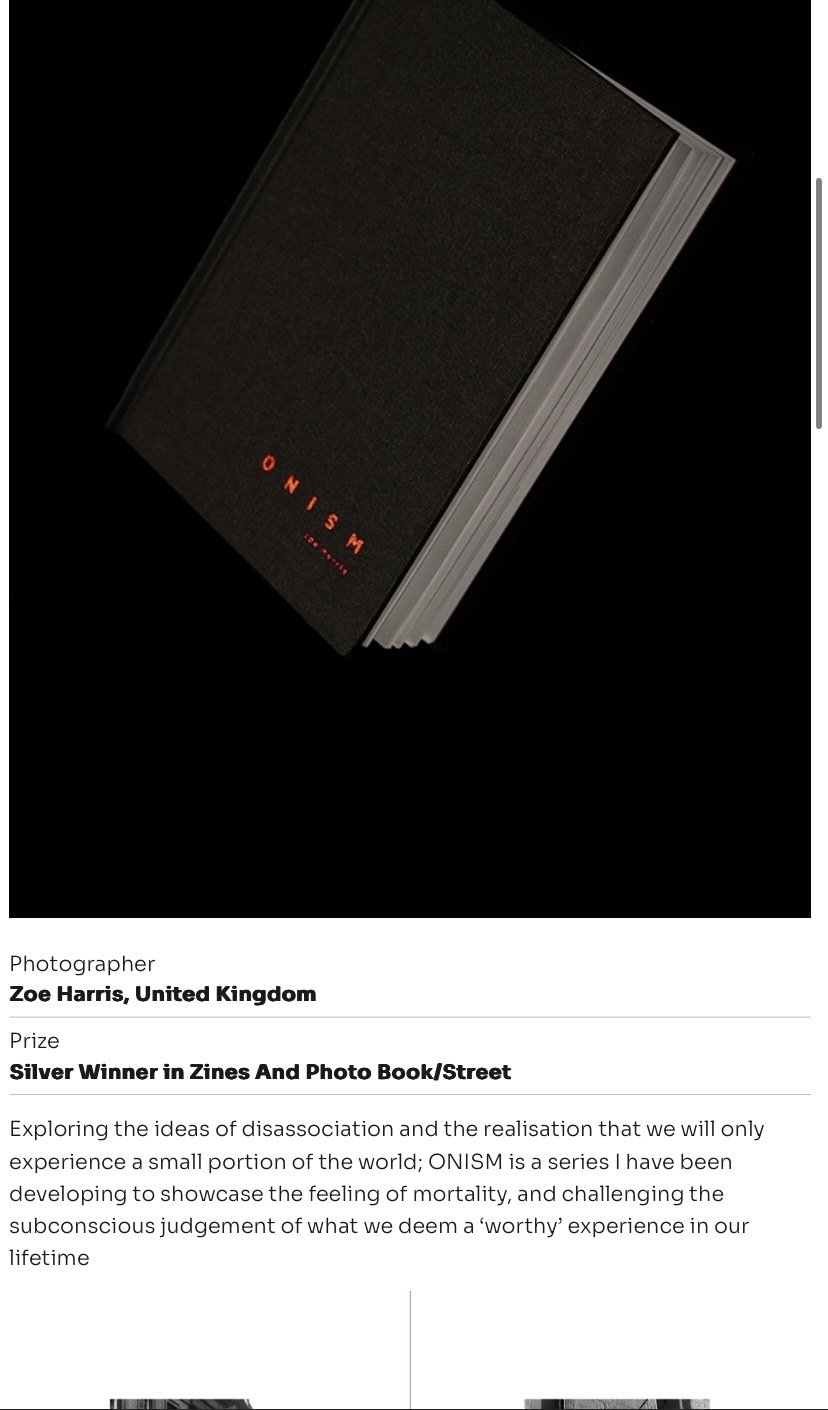 We caught up with Zoe and heard all about her impressive win.
How did you feel when you found out that you had won Silver in Analog Sparks Photobook awards?
"I found out that I won this award from a message from one of my classmates on our group chat, so I didn't really believe him at first! I had applied for a lot of different competitions throughout the year, and lost track of which ones I had entered (lesson learnt), so when he told me that I had won, I was very shocked. But I was also really grateful that something I had worked so hard on had received an award!"
Do you feel that your time at UCW helped to you on the path to winning this amazing prize?
"Yes, we all worked together as a class to help support each other with our photobooks. We also had a guest lecture from Michal Iwanowski, which I found really valuable when designing my book.
"I also learnt how to edit and sequence images, as well as using InDesign to design my whole book, which I had never considered as much of an option before uni."
How do you feel that UCW has helped your knowledge and style to grow?
"UCW has helped me to understand InDesign, as well as how to tell a story with my imagery which is something I will be applying to upcoming projects. Having the freedom of choosing our own subject to centre our book around was also really good, since it allowed me full creative freedom, and gave me a chance to experiment with my photography a little bit more. For example, this book was completely shot on film."
Did the photography facilities & equipment available at UCW help with your studies?
"Since this whole book was shot on film, I was using the UCW darkroom most weeks, developing film or making prints. I had also been using the university's Pentax K100 to shoot some of my photos on, before investing in my own film camera.
"I also found our UCW bookbinding workshop really useful during the process of making my book, since it allowed me to print and make a lot of dummy books, before settling on the final design."
What was your favourite module on your course?
"My favourite module has been our Publication module, which is how this book was made. It has felt like the most unique module, as well as the most tailored towards what I would love to do after university.
"In addition, I feel as though I have learnt the most from it – from InDesign, to shooting film and developing it, followed by sequencing my images to tell a story, this module has felt the most valuable to me so far."
What are your ambitions for the future?
"I'm not too sure what I want to do with my photography yet, but I have always wanted to have my own published photobook, and to sell prints, which is also why this award meant so much to me!
"My short-term goal is to sell more of my books, and prints while at university, and to try out a lot of different photography for clients to see what I enjoy the most!"
This ambition is already well on the way to being realised with Zoe and her classmates attending the prestigious Bristol Photography Book Festival to show and sell their photobooks. This was a brilliant opportunity to network with likeminded photographers and potential clients for the future, with the photobooks receiving lots of positive attention.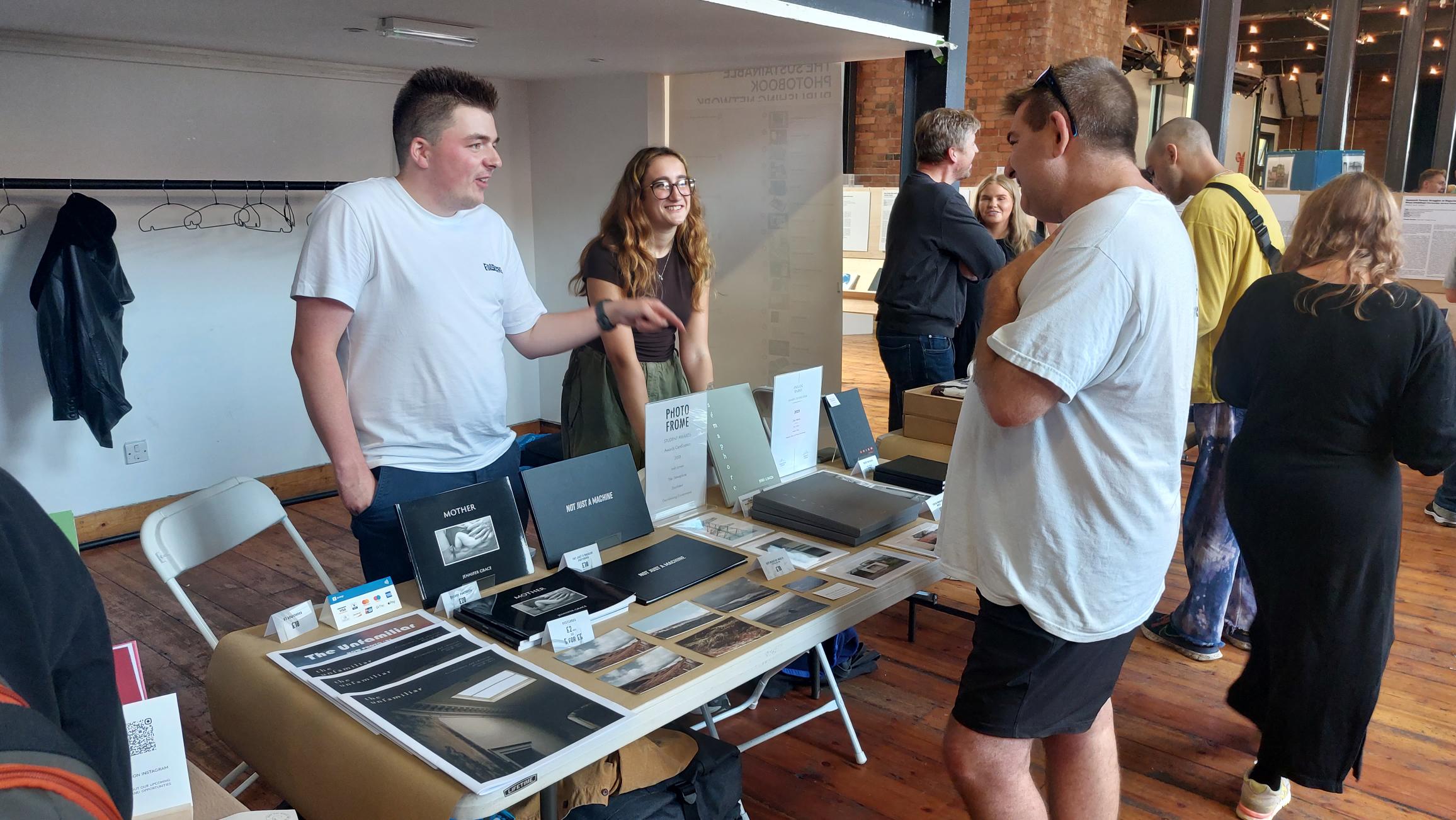 If you want to check out Zoe's award-winning photobook, click here.