***We're encouraging students and staff to plant a tree for the Jubilee!***
University Centre Weston has joined the national campaign to support The Queen's Green Canopy (QGC) – a unique tree planting initiative created to mark Her Majesty's Platinum Jubilee. Our first tree is now proudly planted outside the eco building at South West Skills Campus.
I am now running a student and staff competition for the best picture of you and your tree!  1st and 2nd Prize £100/£50 amazon vouchers.
---
Step 1
You will need to plant your tree from now till the 31st March either in your garden or your community garden. Take a photo of yourself next to your planted tree (with friends and family if you wish) and upload/pin it here to the QGC interactive map. On the registration form, please complete the following boxes as follows:
Please use your own name or the group name 'University Centre Weston students and staff'
In the box entitled Please tell us in 100 words about your tree planting:  Please add "This tree was planted to support University Centre Weston create greener futures!"
For the category box – select "schools"
 Don't' forget to add your email and type of tree planted – the site will show your virtual commemorative plaque in approx. 48hrs. The above picture shows how it will look.
---
Step 2
Once submitted, send your competition photo to marketing@weston.ac.uk by 14th April for a chance to win a prize! The more creative the photo, the better! 
IMPORTANT NOTE: By emailing us an image of you and any other individuals planting a tree, you will be providing permission for Weston College to share this image through our official social media channels (Facebook, Twitter, Instagram and LinkedIn), on behalf of your organisation and all individuals in the image, helping us all create a more sustainable future.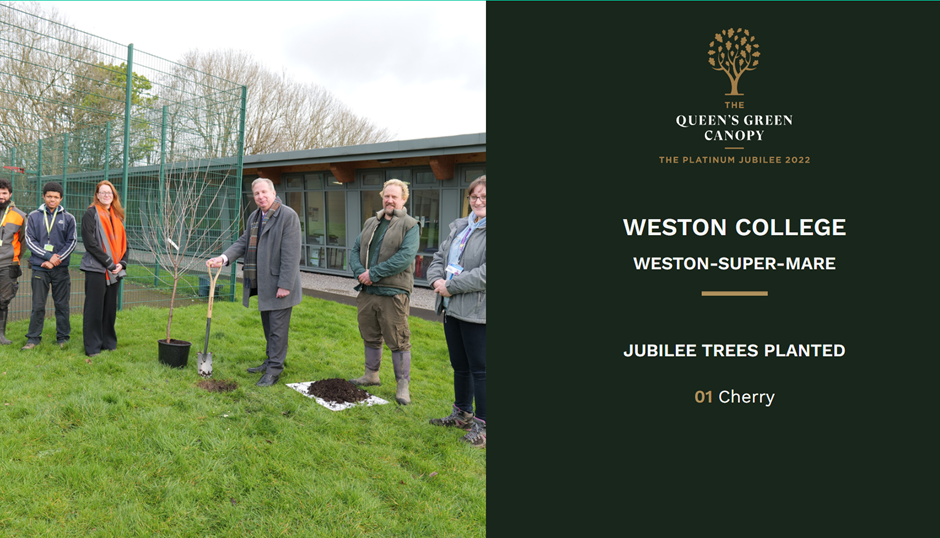 ---
This is just one of a whole range of sustainability initiatives being undertaken to mark our new Sustainability and Social Action Framework being launched soon. 
Kind regards
Dr Paul Phillips CBE
Principal and Chief Executive