We're so thrilled to announce that our Hair, Make-up and Prosthetics for Production (HMPP) student, Poppy, will be exhibiting her work at the Monster Mash Exhibition as part of prestigious 'The Prosthetics Event' this Saturday!  
Taking place in Coventry, this exhibition is as a showcase of work from artists in the make-up and prosthetics industry – ranging from graduates to seasoned professionals. Therefore, being just in her second year of university, Poppy's invitation to showcase her artistry is an incredibly impressive feat, demonstrating the monumental standards of her work.  
Poppy told us "I saw a few months ago that the entries had opened for the Monster Mash, and I had just finished making my piece. When I found out I got in, I couldn't believe it and I was just so excited!" 
The Prosthetics Event, located in the Coventry Building Society Arena on Saturday 19th November, comprises everything from demos and advice from top film industry professionals to beautiful body art and extraordinary exhibits. This year will mark the eighth annual instalment of the event, which has grown substantially over the years, becoming THE annual makeup FX gathering, attracting artists and spectators from around the globe. 
Poppy will be exhibiting her work, which she has nicknamed 'Keth' inspired by the zombie bust's missing eye (i), telling us "in life he was Keith". Poppy created the expertly crafted silicone bust over the summer, meticulously designing, casting, sculpting and hand-painting the creation that will be displayed for thousands of spectators attending the Monster Mash this Saturday.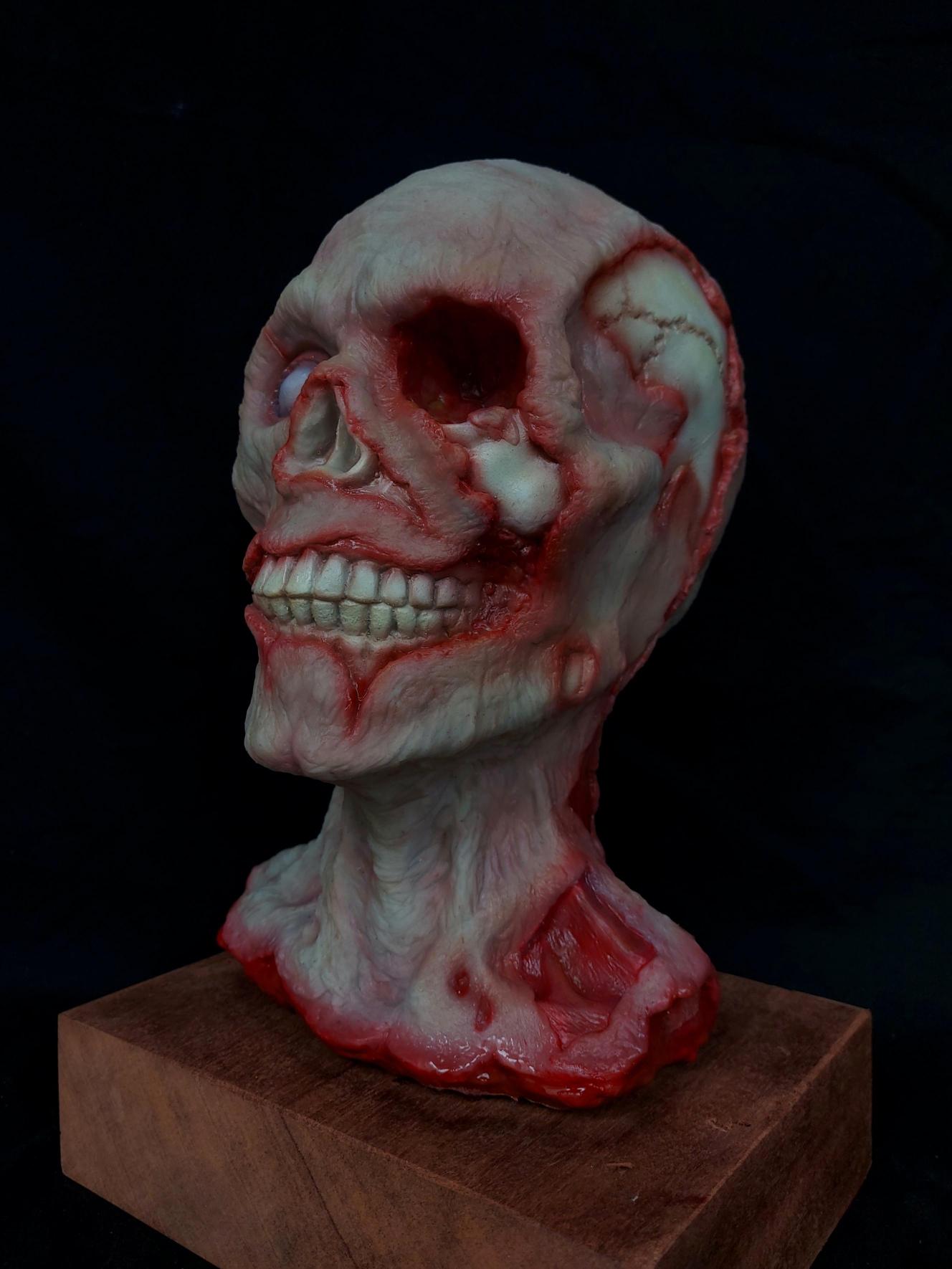 As well as working on outstanding artworks like Keth in her spare time, Poppy, who previously studied Hair and Media Makeup at Weston College, has started her own business; 'Poppy's SFX Place'. She designs and makes moulds for pre-made prosthetic pieces that can be used in the creation of film or stage make up, which she currently sells on Etsy. Poppy tell us "it's going surprisingly well! I only set it up a few months ago and it got really busy during Halloween." 
When asked about how she decided to pursue her dreams in Hair, Make-up and Prosthetics for Production, Poppy told us "This is always what I've wanted to do. As a kid I always knew I wanted to be an artist. When I found make-up, I remember thinking 'this is really cool!' and I just haven't stopped since!" 
Our HMPP degree programme is delivered at our Knightstone Campus, with make-up studios that boast outstanding views of Weston seafront – something Poppy says she really enjoys about the location.  
She told us "it's so lovely being in a seaside town. It was important to me to be able to stay at home and study. There's maybe 5/6 universities across the UK that offer this kind of course. With the smaller class sizes at UCW, it definitely feels more personal. We can have 1-1s with our teachers, whereas in bigger universities, it would be more like you're just a number. At UCW, we're not just a number, we're people here." 
With a vibrant film, theatrical and arts media industry here in the UK, our Hair, Make-up and Prosthetics for Production programme can help develop our students' career in hairstyling, cosmetics, prosthetics, and special effects. 
There are so many opportunities available to our HMPP students. Poppy herself has also taken part in previous AHT (Association of Hairdressing and Therapists) national competitions, in which she got to travel to Blackpool to compete against students from other colleges and produce winning makeup looks. 
This year, University Centre Weston will also be hosting the heats for the AHT body painting competition! 
After university, Poppy hopes to continue to develop her business as well as progress in her freelance career working within the film production industry. She says "I'd love to continue to develop my business and have my own creative freedom.
I'm a maker, I literally can't live in a world where I'm not making stuff!" 
Thanks for taking the time to talk to us, Poppy. A huge UCW good luck for Saturday! 
To find out more about our Hair, Make-up and Prosthetics for Production programme, click here.